26 June 2020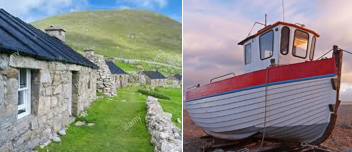 Week beginning 29th June
Week 10 Project – Village Community
Project 10 duration – 1 Week (hand in date - Friday 3rd July 3.00pm).
For this project, you will have three core tasks to set the foundation for your two-part project.
This week's project is based around geography, science and design.
Project Overview
This week you have been tasked to take part in a very special project. You will be heading up a team to go to a very special, beautiful, remote Scottish island to set up a village community there. You will have many important decisions to make to ensure that you and the team (the new village community) can live on the island and it can become successful. You will need to think and plan carefully so that you all can become self-sufficient as a new village community and island family.
Go to our class Teams page and click on the 'Files' tab to find the full Village Community Project on 'Week 10 – Village Community'. The core tasks and suggested activities have been set for you to upload your work on to 'Assignments' when you have finished. Please also share your work on our Teams page so we can see what decisions you made and how this affected your community.
I can't wait to see the work you create this week!
Mrs Davis J
Posted by Mrs Davies
Category: Mrs Murton's Class 2019-2020