26 September 2018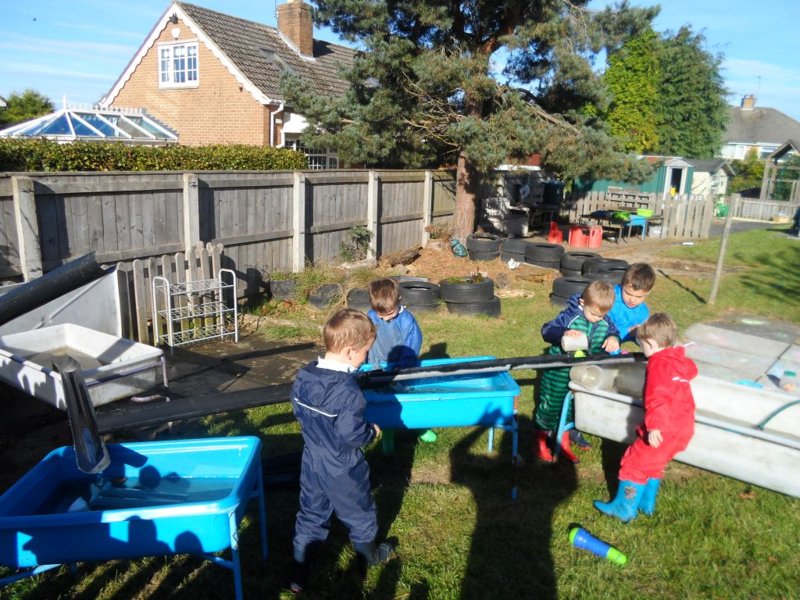 We had some really super thinking skills on display in our outdoor water area. We were trying to get the ducks from the top water tray all the way to the bottom water tray.
First we needed to build a track using the drain pipe pieces.
This bit was quite tricky as they did not want to stay in place. When we tried the first piece we noticed that the water wasn't moving in the direction we wanted it to go.
We thought of a super idea. We noticed that if you lifted the drain pipe up the water moved in the opposite direction. We put one of the containers underneath the pipe to keep the end up high.
Another thing we noticed was that the ducks became stuck if the pipes were not placed in the right order as they crashed into the end of the next pipe.
We made sure that the next pipe, to be joined on, sat underneath so that the duck could slide down without getting stuck.
We were not allowed to push the duck or touch it to help it on its way. We were only allowed to use water. We noticed that if we poured lots of water the ducks moved very quickly BUT we also noticed that if we used too much the pipes wobbled too much and fell off the trays.
What fabulous teamwork!! You all worked so well together and it was lovely to listen to all your fabulous ideas.
Category: EYFS 2018 – 2019