22 January 2021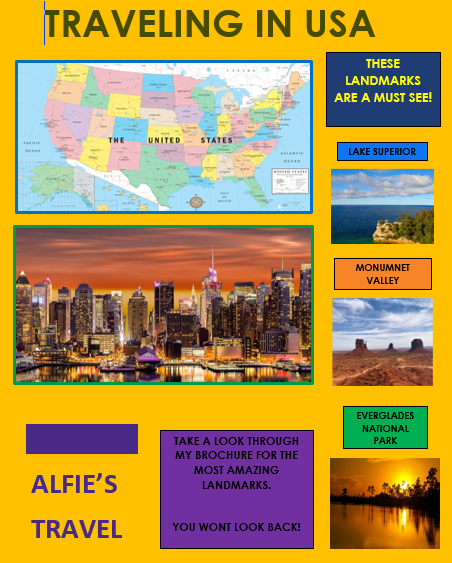 A super week exploring the physical landmarks of the USA. I've made a class brochure using a selection of pages from the children's work this week. I 'd love to visit some of these beautiful places, maybe one day!
The children have also been busy this week writing stories based on a circus act inspired by our class book 'Leon and the place between!' I've read some lovely pieces and the children certainly excelled themselves with their imagination and the use of the language, grabbing the reader's attention.
Here is Thomas's for you to read:
The Flying Gymnast Act
The tent was completely dark, the crowd softly whispering among themselves. Suddenly there was a huge white spotlight shining brightly around the tent. It shone around every corner when all of a sudden it came to a stop towards the roof. There was a gymnast dressed in a bright red costume who appeared to be flying in the air! The crowd gasped with amazement.
The gymnast jumped and swung his arms out, he dropped almost to the floor whilst cartwheeling. The crowd were cheering! The gymnast swung up backflipping through the air three times. A gentle whisper, "How is this even possible…?" could be heard from the crowd.
Meanwhile, the noise of drums started to echo through the tent. The gymnast started flying frantically around the tent, he was spinning, twirling, somersaulting from one side of the tent to the other. The spotlight grew wider, like the eyes of the bewildered crowd. "Awesome" was the eager, loud screams from the crowds.
The explosive drum rolls halted. The flying gymnast hovered above the centre of the tent. SILENCE. The audience's eyes were fixated on the gymnast, with expressions of wonder on their faces. BANG! The whole tent shuddered, like the sides were about to explode, white flashes everywhere and smoke filled the tent from the bottom. The man was hurtling towards the smoke on the floor, falling through the air head-first. Just as the man was about to crash into the smoky floor, darkness flooded the tent and only the whispers of disbelief could be heard from the crowd. A small blue glow appeared it lit the centre of the stage. The smoke had vanished along with the gymnast. The crowd exploded with cheers!
Posted by Mrs Charlton
Category: Mrs Charlton Year 3/4 2020-2021
---
Leave a Reply