26 March 2021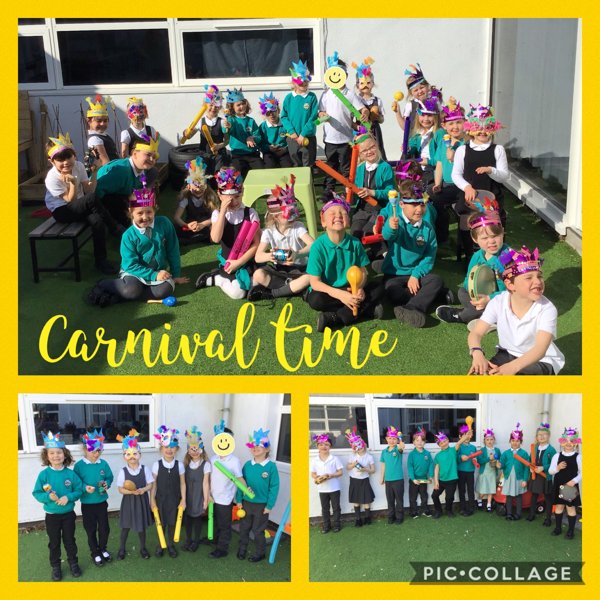 What a brilliant week year 1 have had to end the term. We have celebrated the end of our Rio de Vida topic, where we have been learning all about Brazil, by holding our very own carnival.
On Wednesday, we made Pao de Queijo, Brazilian cheese bread. The children helped to weigh and measure the ingredients and mix them together - it was quite hard work! We then rolled them into balls and baked them in the oven. The children then wrote method for making them, using the bossy verbs they had learnt last week.


On Thursday, it was carnival time! The children made their own headdresses - using card, pipe cleaners, feathers and lots of jewels and trims. They looked fabulous and went brilliantly with the masks, that some of the children had made too!
It was then time for a bit of Samba dancing and instrument playing, they even had a go with Boom Whackers! The children rehearsed and practised, so they could perform for the carnival procession.
The children paraded in colour themes around the outdoor and had a really wonderful time.
Year 1 have also produced some fantastic homework for the Rio de Vida topic, which we have now proudly displayed outside our classroom.
Also, this week, the year 1 did some practical maths work in our outdoor area. We have been looking at measuring and using non standard units to find the length and height of things. The children used cubes and wooden blocks to measure different items in the quad. They had to think about which was the most appropriate unit to use to measure with and then record their results. We then decided to measure the length of the outdoor area using children! It was 12 children in length!

We have had a really great week this week, but have been working very hard, so are definitely ready for our Easter break.
Happy Easter everyone!
Category: Mrs Gilpen Year 1 2020-2021
---
Leave a Reply